JPMA Certified
5 Year Warranty
Tip Resistant
Adjustable
Secure Seating
You'll Never Outgrow a Height Right!
The Wooden Kids Chair from Keekaroo grows with your child, from age 3 years and up to a 250 lbs. weight capacity. Completely adjustable to each child's needs, the wooden chair adjusts in height and depth of the seat and footplate. This allows every child the perfect seating position. The Height Right Kids Chair is JPMA certified for use at the table or desk.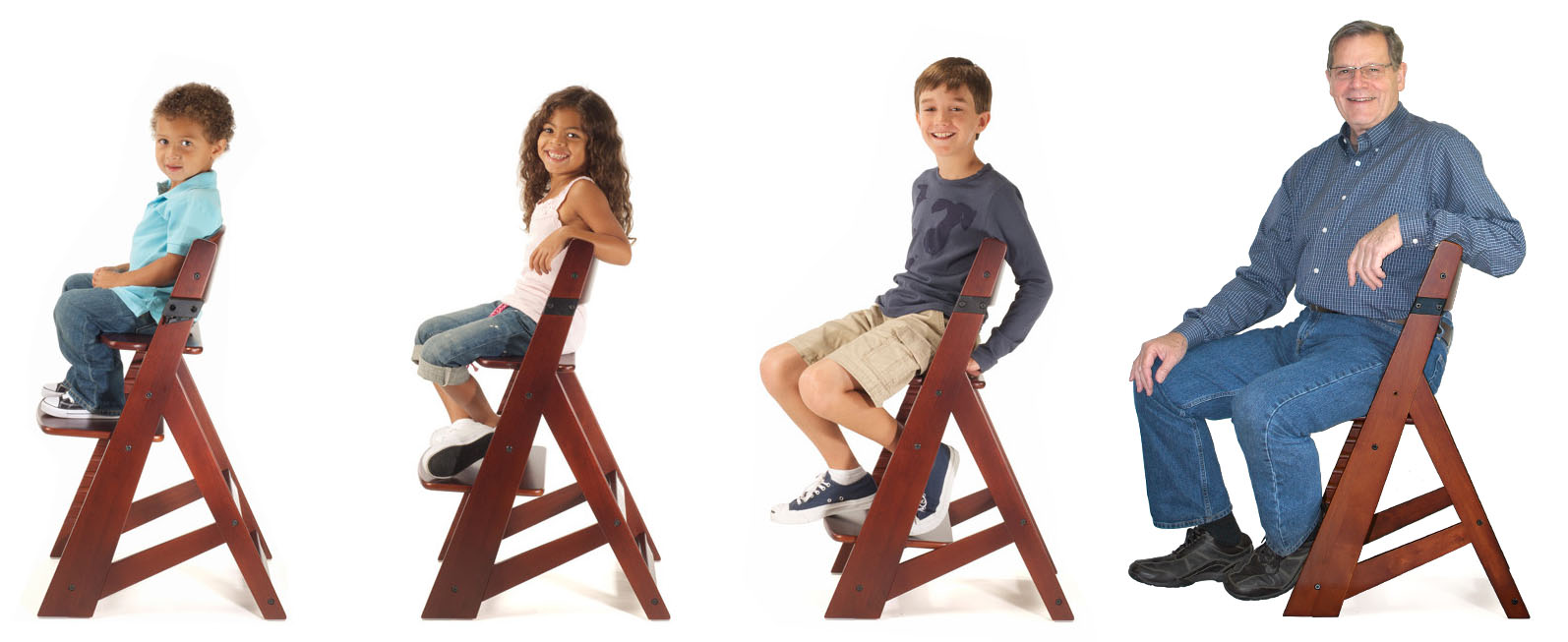 Optional Accessories:
Upgrade your Kids Chair with Comfort Cushions! Comfort Cushions are made from a durable and soft-to-the-touch material that lets your little ones settle in to the perfect spot.

This Wooden Kids Chair includes:
High Chair Specifications:
| | |
| --- | --- |
| | |
| | |
| | |
| | |
| | |
| | 7" x 18" (17.8 - 45.7 cm) |
| | 9.5" x 16.5" (24.1 - 41.9 cm) |
| Seat Plate Height Range (from floor) | |
| | 11.5" x 16.5" (29.2 x 41.9 cm) |
| Foot Plate Height Range (from floor) | |
| | |
Users' Manual: Click here to download
Warranty: 5 Year Warranty
Safety Information: Keekaroo is a Member of the Juvenile Products Manufacturers Association (JPMA), and the Keekaroo Height Right Wooden Highchair is test certified to the American Society for Testing and Materials (ASTM) standard F 404-07, Standard Consumer Safety Specification for High Chairs.
Cleaning: Wipe with mild soap and warm water
Counter Height: Because counters and tables may be different in height, please note that the highest seat plate measurement is 24.5". Please measure your counter.

Adjustable Wooden Chair
Reviews and Testimonials
"Great value for this wooden adjustable chair. We use ours constantly, and mom and dad sit on it all the time when we're at the table doing projects. It's great to have a chair we can also use and it doesn't just take up space when it's not being used for the kidlet. Great price compared to the other adjustable wooden chair on the market." Read more Reviews and Testimonials here.