Height Right™ Kids Chair with Comfort Cushions
GroupID: 0
Logged In:
JPMA Certified
5 Year Warranty
Soft & Durable
Adjustable
Helps with Posture
Comfort and Adjustability All Grown Up!
The Wooden Kids Chair from Keekaroo grows with your child, from age 3 years and up to a 250 lbs. Comfort Cushions add a soft cooshie seat to the sturdy Kids Chair.
Completely adjustable to each child's needs, the wooden chair adjusts in height and depth of the seat and footplate allowing every child the perfect seating position. The Height Right Kids Chair is JPMA certified for use at the table or desk.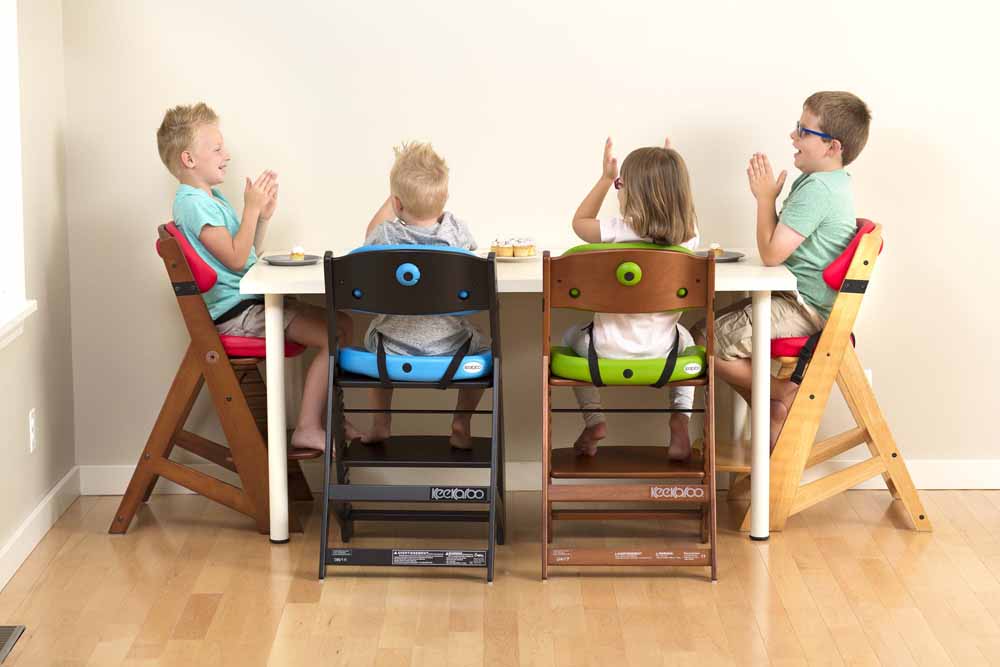 Highlights of the Keekaroo Comfort Cushions are:
| | |
| --- | --- |
| | Easy to Clean: Solid surface wipes down easily and limits bacteria growth |
| | Water Resistant: Fluids cannot penetrate into the pad, stopping mold or deterioration |
| | Soft to the Touch: Comfort Cushions provide soft, comfortable seating |
| | Protective Layer: Surface allows for immediate cleaning |
| | Crack/Puncture Resistant: Designed for hospitals, durable outer shell withstands everyday demands |

The Wooden Kids Chair with Comfort Cushions includes:
High Chair Specifications:
| | |
| --- | --- |
| | 14.5 lbs (6.6 kg) |
| Overall Height | 33.5" (85 cm) |
| Overall Width | 17.75" (45 cm) |
| Overall Depth | 21.5" (54.6 cm) |
| Tray Height (from floor) | 28.5" (72.4 cm) |
| Tray Depth x Width | 7" x 18" (17.8 - 45.7 cm) |
| Seat Plate Depth x Width | 9.5" x 16.5" (24.1 - 41.9 cm) |
| Seat Plate Height Range (from floor) | 16" - 24" (40.6 - 60 cm) |
| Foot Plate Depth x Width | 11.5" x 16.5" (29.2 x 41.9 cm) |
| Foot Plate Height Range (from floor) | 4"- 21.25" (10 - 54 cm) |
| Max User Weight | 250 lbs (113.4 kg) |
Comfort Cushions Specifications:
Available in set of seat + back
Latex Free, seamless material
Soft-to-the-touch material for comfortable seating
Peel-resistant and tear resistant
Impermeable to fluids
Easy to wipe clean
Made in the USA
Users' Manual: Click here to download

Comfort Cushion Installation here
Warranty: 5 Year Warranty
Safety Information: Keekaroo is a Member of the Juvenile Products Manufacturers Association (JPMA), and the Keekaroo Height Right Wooden Highchair is test certified to the American Society for Testing and Materials (ASTM) standard F 404-07, Standard Consumer Safety Specification for High Chairs. When using a Tray, the Infant Insert is required.
Cleaning: Wipe with mild soap and warm water.
Counter Height: Because counters and tables may be different in height, please note that the highest seat plate measurement is 24.5". Please measure your counter.

The Height Right Kids Chair in Action!

Height Right Kids Chair Featured Articles: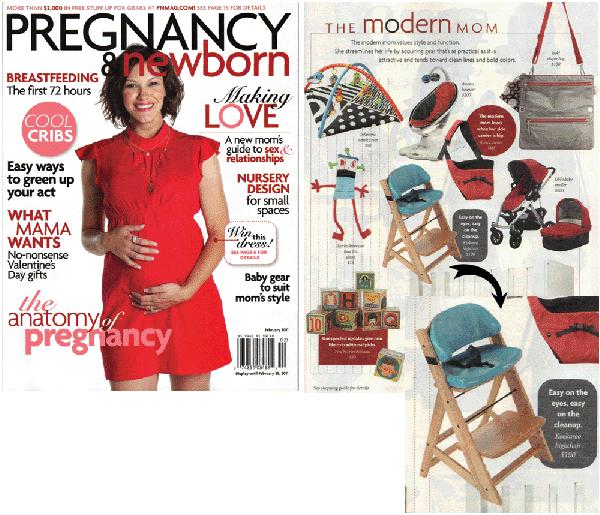 View the Adjustabilty of the Height Right


Reviews and Testimonials
"This chair is fabulous! It is a beautiful natural wood, and the comfort cushions are created using non-toxic fabrics and chemicals - a huge plus since my baby will undoubtedly try to eat it! It was also very easy to assemble - this was the first time my husband didn't curse while trying to put together yet another baby contraption. We are extremely happy with this product, and find it to be a superb value since it can be used and adjusted as she grows." Read more Reviews and Testimonials here.