Height Right™ High Chair with Infant Insert
6 months to 3 years
Keekaroo's wooden Height Right High Chair with Infant Insert offers a safe and comfortable seat for your child during mealtime. The adjustable wood high chair is ideal for children aged 6 months to 3 years.
GroupID: 0
Logged In:
JPMA Certified
5 Year Warranty
Soft & Durable
Adjustable
Helps with Posture
Keekaroo: Style + Function • Affordability
The wooden Height Right High Chair from Keekaroo offers the safe and comfortable seat your child needs during mealtime. The adjustable wood high chair is ideal for children from 6 months to adults up 250 lbs. When used with the wooden tray, this system is JPMA certified to the highest ASTM standards for children up to 3 years old. The Height Right High Chair also aids with proper seating posture.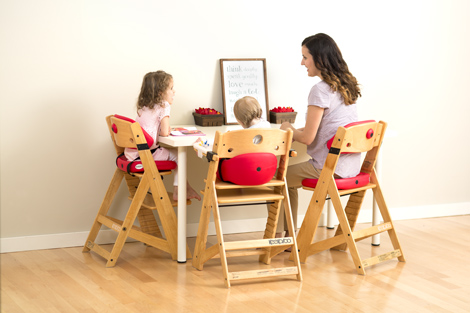 Highlights of the Keekaroo Infant Insert are:
Easy to Clean: Solid surface wipes down easily and limits bacteria growth
Water Resistant: Fluids cannot penetrate into the pad, stopping mold or deterioration
Soft to the Touch: Infant Insert 

provides soft, comfortable seating

Protective Layer: Surface allows for immediate cleaning
Crack/Puncture Resistant: Designed for hospitals, durable outer shell withstands everyday demands
Promotes Good Posture: Designed to provide stability and proper hip posture

This Wooden High Chair includes:
Infant Insert, choose your color!

3-Point removable pelvic belt

Wooden tray & BPA-Free plastic tray cover
High Chair Specifications:
| | |
| --- | --- |
| | 14.5 lbs (6.6 kg) |
| Overall Height | 33.5" (85 cm) |
| Overall Width | 17.75" (45 cm) |
| Overall Depth | 21.5" (54.6 cm) |
| Tray Height (from floor) | 28.5" (72.4 cm) |
| Tray Depth x Width | 7" x 18" (17.8 - 45.7 cm) |
| Seat Plate Depth x Width | 9.5" x 16.5" (24.1 - 41.9 cm) |
| Seat Plate Height Range (from floor) | 16" - 24" (40.6 - 60 cm) |
| Foot Plate Depth x Width | 11.5" x 16.5" (29.2 x 41.9 cm) |
| Foot Plate Height Range (from floor) | 4"- 21.25" (10 - 54 cm) |
| Max User Weight | 250 lbs (113.4 kg) |

Infant Insert Specifications:
Pommel to help prevent scooting out

High Sides to help prevent leaning

Latex Free, seamless material

Soft-to-the-touch material for comfortable seating

Peel-resistant and tear resistant

Impermeable to fluids

Easy to wipe clean

Overall insert height: 5.5"

Inside of seat: 10" x 8"

Made in the USA
Users' Manual: Click here to download
Warranty: 5 Year Warranty
Safety Information: Keekaroo is a Member of the Juvenile Products Manufacturers Association (JPMA), and the Keekaroo Height Right Wooden Highchair is test certified to the American Society for Testing and Materials (ASTM) standard F 404-07, Standard Consumer Safety Specification for High Chairs.
Cleaning: Wipe with mild soap and warm water
Counter Height: Because counters and tables may be different in height, please note that the highest seat plate measurement is 24.5". Please measure your counter.

The Height Right High Chair in Action!
Height Right High Chair Featured Articles
Adjustable Wooden High Chairs
Click here to view the Adjustability of the Keekaroo High Chair


High Chair Articles
With so many baby high chairs available, it is difficult to decide what is best for your child. Learn more about choosing the right high chair with these informational articles.
Reviews and Testimonials
"I must say....I could not have chosen a better fit for our little man, and our home. The wood is a wonderful quality, the tray is both functional and modern - nice twist with the removable plastic top! The infant insert is nice and comfy, and super easy to wipe clean!! I can't wait to watch my little guy grow with his cool chair!" Read more Reviews and Testimonials here.