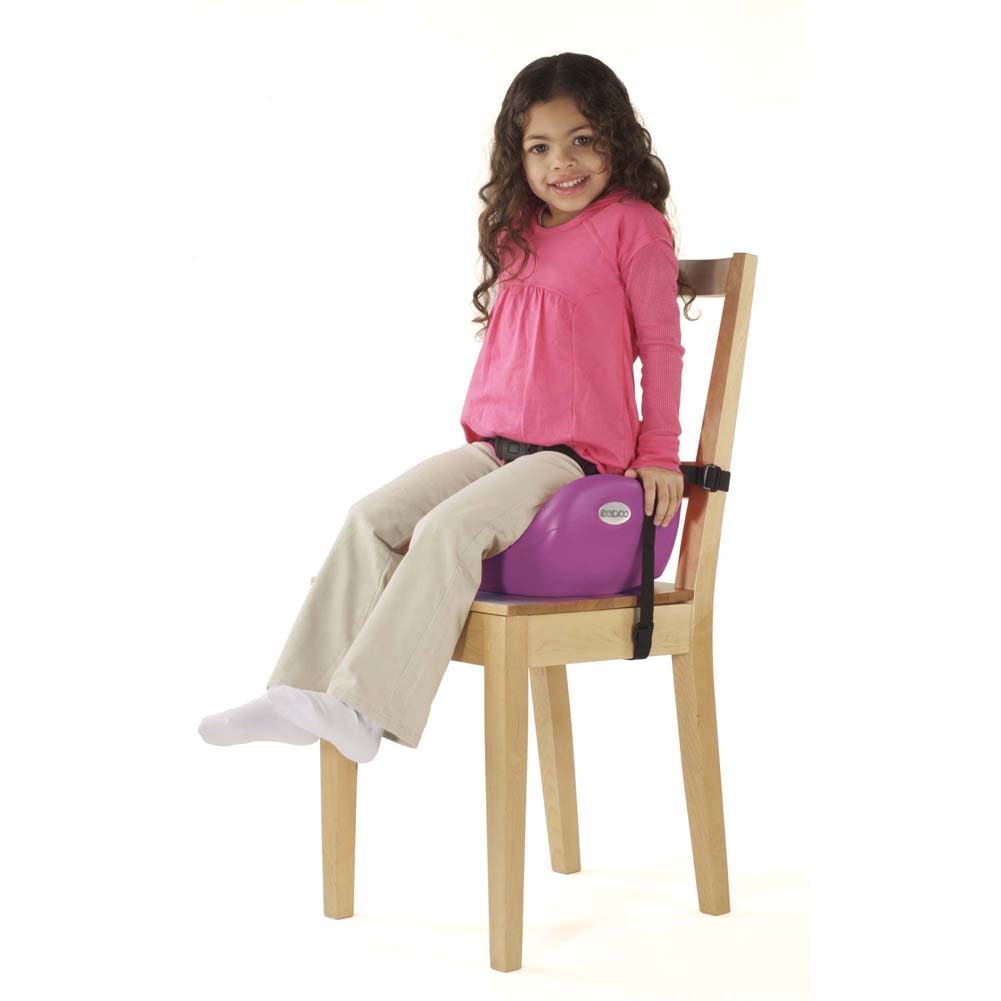 Your child is too big for a wooden high chair, but too small for a regular dining room chair, so what's next? If your little one is "over" their high chair or you travel often, it's time to check out some Toddler Booster Seats.
---
Toddler Booster seats, also called Mealtime Booster Seats, give little ones a much needed boost up to table height by attaching to regular dining chairs. Back in the day, phone books or catalogs were used to help children join the table for family meals. Thankfully, the innovative Toddler Booster Seat has found its place among the most useful baby gear items. Listed below you will find the key features to focus on when researching which Toddler Booster Seat is best for your child.
Sizing it Up. Booster Seats are designed for children who are 18 months – 5 years old. Be sure to research the seat's age and weight limits to make sure it's the right fit for your child.
Material Matters. All booster seats are built to be sturdy, durable and easy to clean. But what material do you prefer? A majority of Toddler Booster Seats are made of molded plastic or cushion material. Are they non-toxic, BPA Free and free of VOCs? Being mindful of the materials used to make booster seats is a top priority for parents.
---
Plastic Booster Seats offer sturdy molded support for your child during mealtime. While plastic is durable, it might not be as comfortable or portable as their cushioned counterparts.
Cushion Booster Seats create a more comfortable seat and are optimal for children who have trouble sitting for an entire meal. They are also the best option when you are looking for portability.
Have Booster, will Travel. Portable booster seats can be helpful when you don't have access to safe, age-appropriate seating. A portable booster can make mealtimes on vacations and visits with family and friends easy and comfortable for your child. Lightweight or foldable options are best if you travel frequently. Boosters that feature travel friendly handle, carry straps or a travel bag are key.
Safety First! Toddler Booster Seats must meet rigorous safety protocols and requirements set by the Consumer Product Safety Commission (CPSC). Check to see if the booster is Juvenile Product Manufacturers Association (JPMA) or ASTM International (ASTM)safety certified.
Ease of Installation. No one wants to break a sweat figuring out how to attach a booster to a seat in a crowded restaurant! Check to see how the booster seat attaches to a chair. Can it be done in just a few quick steps? Knowing how to install your booster will make mealtimes a snap – especially when out at restaurants or visiting friends!
A note on Booster Seats Lingo: Toddler Booster Seats are not to be confused with Booster Car Seats made for use in cars as a safety seat when traveling. Toddler Booster Seats are made for mealtimes to provide a comfortable seat at a dining table. Toddler Booster Seats are not crash tested and therefore must never be used in a moving vehicle.
Check out Keekaroo's version of the Toddler Booster seat: The Café Booster. Comfortable, durable, portable, and JPMA certified, the Café Booster is easy to clean, impermeable to fluids, non-toxic and comes in a variety of fun colors!